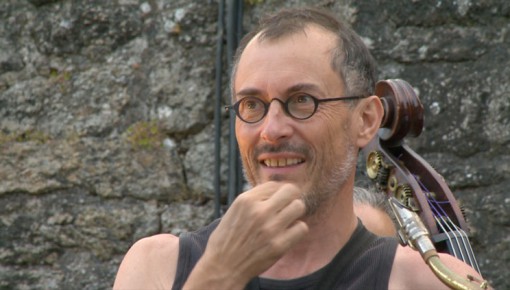 Alain Pierre at "Les rendez-vous de l'Erdre" festival

Alain Pierre at "Les rendez-vous de l'Erdre" festival
Alain Pierre studied musical composition (harmony, counterpoint, composition) with the composer Christian Villeneuve at the Conservatory of Nantes. He then studied composition, arrangement alongside Ivan Jullien at CIM, and wrote many songs for stage performance (theatre and music shows), big bands and movies.
As a Jazz musician, he plays the saxophone (tenor, soprano, alto, baritone), the flute and bass clarinet. He studied with François Jeanneau, Michel Roques, Sylvain Beuf, Michel Goldberg, Louis Sclavis.
In 1983, he created in Nantes a musical comedy with which he runs for ten years: VICTOR RACOIN (Avignon Festival, Nyon, Montreal Juste pour Rire Festival…).
In 1995, he founded a new musical company to create performances which he signs the music: "LES PETITES AFFAIRES", participating in numerous festivals and with which he created in 1995-2012, 5 shows, 600 performances (Avignon Festival, Namur, Aurillac…).
In 2004, he founded the "Les 5000 Doigts du Dr. K"'s Jazz 7tet, who performs John Kirby's music and cartoons' music from 30/40 years. In 2010, the band recorded a LP with guest clarinetist Laurent Dehors. In 2012, he created with the orchestra the "Cartoon Frénésie"'s show, during which the band plays by synchronizing with images of Tex Avery's cartoons.
Alongside his musical career, Alain Pierre studied history of Art.